New Building News
Help us realize our vision of a new Kendall-Frost Field Station and Learning Center!

The California Wildlife Conservation Board and many generous donors to the UC Natural Reserve System have contributed funds that will be used to construct a much-needed new facility on the Kendall-Frost Marsh Reserve in Mission Bay.  The new facility will focus on research, education, and community service.
Currently, there is a 55-year-old antiquated trailer in the reserve that no longer meets the research needs of the university and local students, and cannot safely accommodate groups of any size. Through the generous contributions of philanthropists like you, UC San Diego will build a new facility to house our research and public education programs so we can maximize their impact.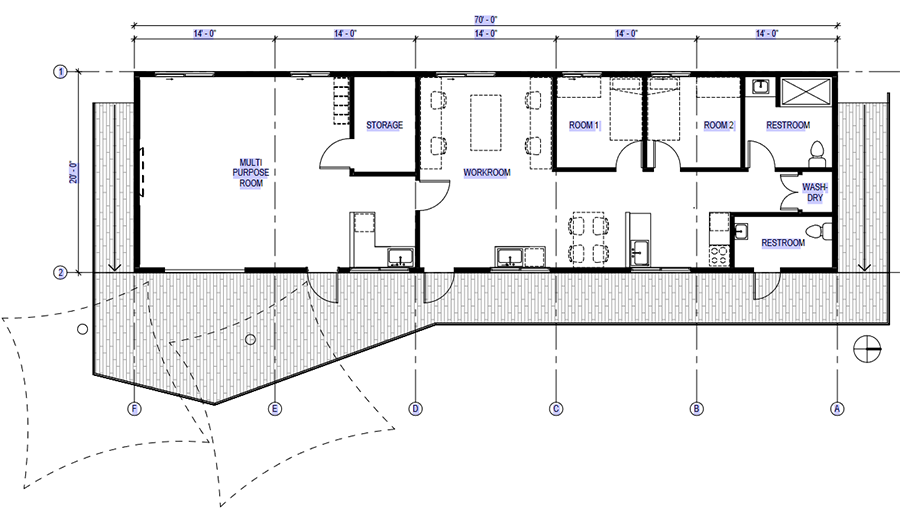 The new building will feature:
A large multipurpose room to serve as a workplace, classroom for local students, community room, or event space
A module to house overnight researchers, including a work area, office space, and facilities to secure expensive equipment
A large deck, serving as an outdoor classroom, bird-watching overlook, a gathering spot during community events, and offering a pristine view of Mission Bay
Food preparation and reception areas
ADA compliance
Support Kendall-Frost
With your philanthropic support to construct this new facility, Kendall-Frost Marsh Reserve will be a major catalyst to study, understand, educate, and engage the public about vital environmental services. San Diego faces many environmental risks, but solutions are within our grasp, from water quality improvement to climate adaptation to rising sea levels, and to student engagement in science, assuring leadership for our future. Understanding these solutions requires community engagement and support of the marsh, and having a safe and modern place to learn and conduct research.
Thank you for joining us in this critical, high-impact effort.
To learn more about supporting the new field research and education building and the marsh, please contact:
Heather Henter
Executive Director
UCSD Natural Reserve System
(858) 534-8494 | hhenter@ucsd.edu